Day 26- Squaw Valley, CA - Las Vegas, NV * Day 27 - Las Vegas, NV * Day 28- Las Vegas, NV - Cottonwood, AZ 
Day 26 
We found out late last night that a 9 year old student who attended the school Maggie taught at last year was murdered. A few of our friends also taught this young boy and the feelings of sadness and hopelessness were endured from multiple angles. Maggie didn't sleep much as her mind took her to places she never imagined. 
We were scheduled to leave out of our campsite early to get a jump on our journey to a destination we had not yet decided. Instead, Maggie cried as she slowly packed up the inside of the camper. August and I took care of our outside duties offering support whenever and wherever we could. The mood was set, and it was somber.  
Maggie cried all through the orange groves between Squaw Valley and Visalia, and we still had no real destination. We only knew we had to start heading east for New Mexico. Our original idea was to camp around Lake Mead, but after seeing the amount of people at Hume Lake, we decided to look into other options. 
It was then that I reached out to my buddy and former bandmate, Jimmy Carpenter. Jimmy now lives in Las Vegas with his partner, Carrie, and her two children. Jimmy confirmed that he would be around and we started looking for campgrounds nearby. Right as we picked our spot which was only 10 minutes from Jimmy and Carrie's house, we received a text from Jimmy offering up their casita for us to stay. Their casita (little house) is a stand alone structure in the backyard that beat any of the finest hotel rooms I've stayed in with all the amenities one could need, and it opened up to a beautiful pool. We were sold. 
Almost immediately after we decided we were headed to Vegas, we began planning our wedding vow renewal on the Vegas Strip.  Aside from needing something to lift our spirits, we figured that our original plans to renew our vows during our 10 year anniversary celebration in October wouldn't be possible due to Covid. We were all in.  
Maggie researched wedding and vow renewal packages on her phone as I pointed our rig towards fabulous Las Vegas! Our excitement grew not only because of our spontaneous idea to get re- hitched, but also because neither of us had been to Vegas before. We knew it would be pretty hands off because of the pandemic, but we were excited nonetheless to see the strip in person.  
We arrived in the early evening and Jimmy and Carrie greeted us at the door. Both Jimmy and Carrie recently tested negative for Covid and it eased our concerns about how distanced we needed to be. We caught up on the last decade over a beer and I grabbed a few bottles of Oregon wine from the car to chill for later.  
Man, it was good to see Jimmy. We played in a band together from 2007-2010 or so and it was one of my favorite lineups of my career. We reminisced on the first time we played together in 2004. Those were the good old days.  
We all sat around the table and ate the spaghetti and red gravy Jimmy had prepared, and we drank the Oregon wine. Before long, it was time for bed. We retired to the casita and Maggie and August crashed immediately. I stayed up to work on my vows for the next day's ceremony.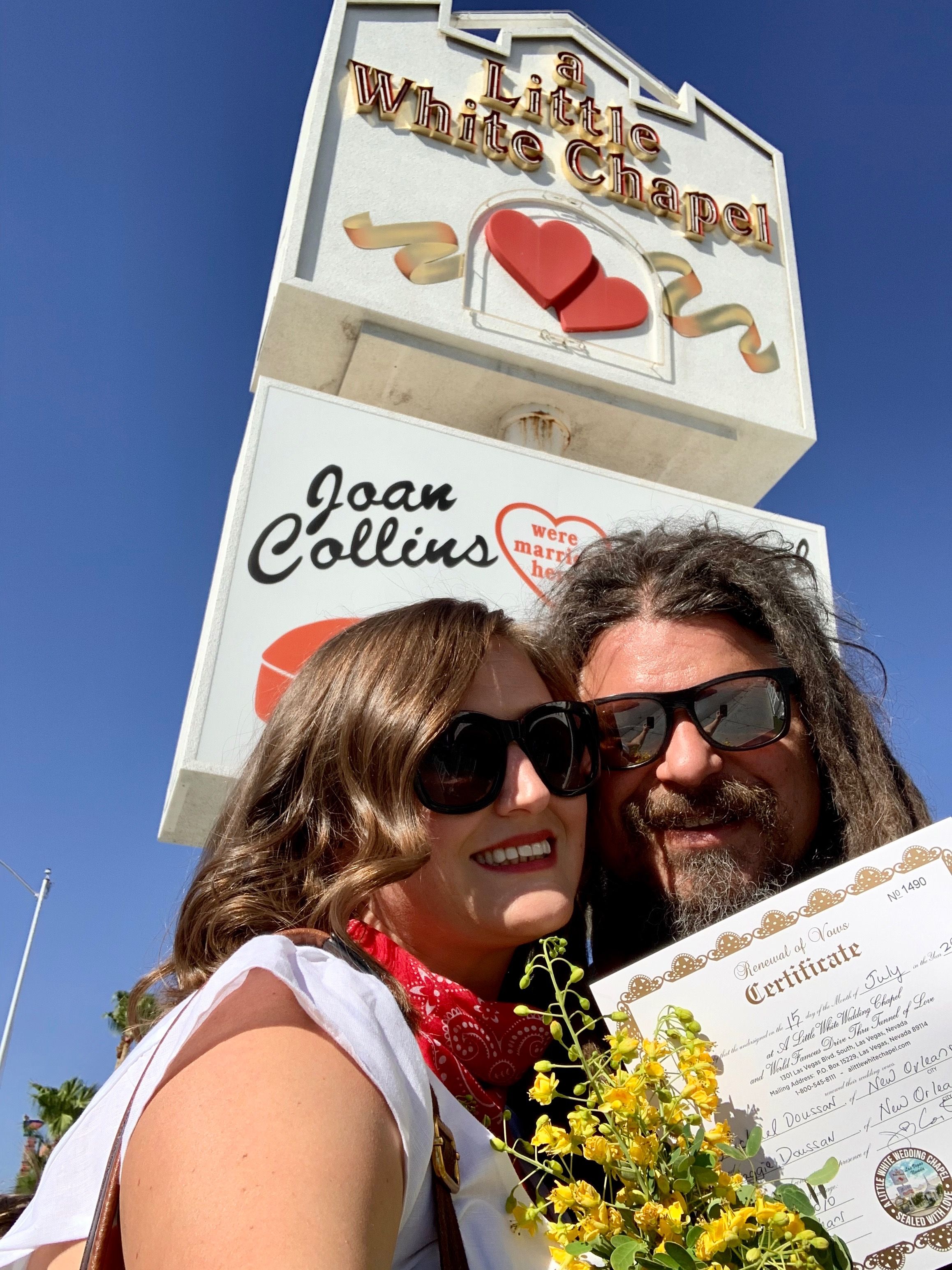 Day 27 
It's amazing how easy it is to sleep in when you're not feeling the morning heat beating down on the canvas of the pop up camper. I awoke naturally around 9:30 to find Maggie up and tuned into an online meeting for the new school year. That's a whole other source of frustration, but we'll discuss that at a later date. I made my way to the main house to find August already in there playing the keyboard. Jimmy and I talked for a bit before I went out to pop up the camper to grab a few things we needed.  
After Maggie finished her meeting and hair conditioning treatment, we headed out to search for a thrift store to find some decent clothing for our  vow renewal at the world famous The Little White Chapel. I immediately found a black pinstriped jacket, black wranglers, and a plain grey t-shirt, and August found a Utah Jazz jersey and some blue rainbow striped warm up sweats. Maggie found nothing, so we headed to the strip for Maggie to find a dress.  
August and I dropped Maggie off at Fashion Show, which I guess is a mall of sorts. She originally wanted to go to forever 21 but she decided to go to a less crowded Banana Republic where she quickly found a white dress at 80% off. We were set. We headed back to the casita to eat and rest up. 
We got dressed for the occasion and followed Jimmy and Carrie down to the chapel. Our officiant led us to the chapel. She must've seen us poking around outside not knowing where to go. We signed in at the front desk and picked up our commemorative certificate and bumper sticker. Before long, August was walking Maggie down the aisle as Jimmy and Carrie both took video and pictures.  
I'm not sure what I expected, but I guess I thought it would be a little cheesy. Aside from some of the obvious things that supported that notion, I was overwhelmed with love and excitement to once again make a vow to my best friend and my lover. The officiant walked us through the ceremony and Maggie and I recited our vows. I teared up as I made my promise. We exchanged rings again, this time custom turquoise rings from Serpentine Silver Queen, and we walked down the aisle once again, arm in arm. 
We snapped a few shots before we headed back to the house for some rosé bubbly to celebrate. We chatted for awhile over champagne before we decided to set up and play a live stream concert from the music room. I knew it would be great. Jimmy is such a great player and we always had such a great chemistry together. Nothing has changed since the last time we played except for maybe both of our voices improved and we may have developed a few more wrinkles. We navigated through both old and new material as we fulfilled requests from our online viewers. August and Carrie both joined us on drums at certain points during the show, and we just had a blast. I needed that. To play with Jimmy. It had been too long. 
Forgetting to eat dinner, we headed back down to strip for Carrie to give a tour with it all lit up. We were taking it all in when August started to breakdown. That was when we realized we neglected to feed the poor kid. We cut the tour short to head back home to snack on smoked albacore, leftover Mexican, and spaghetti O's. Another great day in the books.  
Day 28 
Today makes 4 full weeks on the road. We are traveling well together and we are still excited about what lies ahead, but also apprehensive as Maggie and August are set to start school in some fashion in the near future. There are still no firm guidelines set, so I guess we'll worry about it later.  
After saying our goodbyes and expressing our gratitude to Jimmy and Carrie, we pulled off an hour behind schedule, once again not having a destination set in stone. We figured we'd head towards the Petrified Forest, but ultimately, we decided we'd stop in Cottonwood, AZ just south of Sedona. I developed a love for Sedona back in '96 when I visited there on a family vacation, so I was happy to be stopping nearby.  
It was a beautiful drive as we got to view the cobalt Lake Mead and watch in awe as the rock formations changed shapes and colors. We watched our dashboard display as the temperature dropped from 105° to 59° and then back up to 80° at our destination in Cottonwood. We stopped at Home Depot for some supplies to repair the front bed, which has been giving us some issues, picked up some fast food and made our way to the campground.  
I'd say the highlight of the day was walking around the campground around 9pm and finding an empty campsite where all three of us lay on our backs on a picnic table to gaze at the stars. We joked and laughed as we pointed out satellites and shooting stars. It was dark enough and clear enough for The Milky Way to make an appearance, and we all agreed that the Arizona sky was amazing before we laid ourselves down to rest.  
Until next time, be good to yourselves and each other. 
Mike